Some of my social media besties & I are working together to bring you a little blog hop of sorts! We call our selves the Primary Peeps and I am thrilled to be in their group!!
Each week one of my awesome friends will be featured and bringing you some of their expertise! Lots of them have plans to include a freebie so make sure you check each week!
This week Leah over at Grasty's 2nd Grade Goodies is going to be kicking things off for us!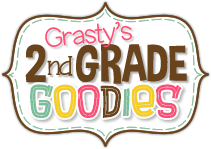 This week she is giving away an awesome Math resource that would be invaluable to any 2nd Grade classroom!!
So head over and grab her awesome freebie and show her some love! Be sure to check back every Sunday so I can link you to the next blogger!